Armenia:
Stamps and Postal History
This is one of my best-selling areas. I take great care to distinguish genuine, reprint and forged material especially for the period 1917 – 24. Recently, for example, I have seen a number of official stampless covers from this period with genuine stamps added – and forged cancellations. Beware!
Popular with collectors are my reference collections where I present examples of genuine, reprint and forged types for issues of the 1919 - 23 period. These collections cost between £100 and £500 per issue (Framed Z, unframed Z, rouble surcharges, First Yessayan, Second Yessayan, Yerevan pictorials)
I also stock Armenian covers and cards of all periods. These sell quickly and you need to register with me to ensure a supply
I have an excellent stock of 1918 – 25 Fiscal documents with scarce and rare Revenue stamps.
For more details email me.
Trevor Pateman
Unit 10, 91 Western Road,
Brighton,
BN1 2NW,
ENGLAND
trevor@trevorpateman.co.uk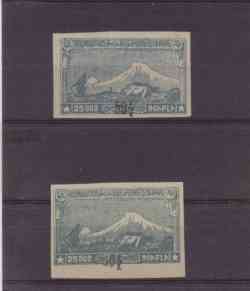 At the top, a genuine example of the surcharge. Underneath, the most common forged surcharge, always found on genuine (first printing) stamps, and distinguished by the blue-ish ink and shape of the zero on '50'
Price for the pair: 60 euro
To purchase, email me.