Estonia:
Stamps and Postal History
This is a popular country, and my stock is always changing. In addition to a general range of stamps and postal history, I try to keep the folowing on a general basis:
- Provisional cancellations 1918-1920
- Post-1991 commercial mail
- Revenue stamps, loose and on documents, up to 1945 - some very attractive items in my current stock.
- WW2 Occupations
Finland:
Stamps and Postal History
I have a modest stock, mainly covers, including early Serpentine roulettes ex-Sundmann collection.
For more details email me.
Trevor Pateman,
Unit 10, 91 Western Road,
Brighton,
BN1 2NW,
ENGLAND
trevor@trevorpateman.co.uk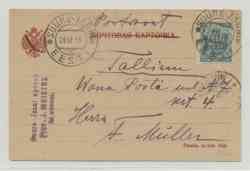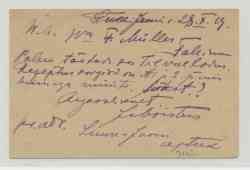 1919 (October)
Commercial (chemist's) postal stationery card from SUURE-JAANI 29-10-19 to TALLINN 31-10-19, franked 15 kopeck (Michel 3). A clean and attractive non-philatelic card.
Price: 65 euro SOLD
To purchase, email me.