Georgia:
Stamps and Postal History
Not on enough people's minds which means I can supply lovely material for serious collections from the Imperial period up to around 1925. The basic stamps of Georgia's first independence period are cheap, forgeries are very uncommon (and I can show you examples), there's a lot of postal history still to be done, and there are good English language Handbooks (Ashford, Ceresa) What is everyone waiting for?
For more details email me.
Trevor Pateman,
Unit 10, 91 Western Road,
Brighton,
BN1 2NW,
ENGLAND
trevor@trevorpateman.co.uk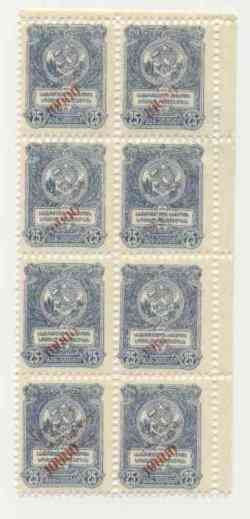 1922 famine relief issue SG 36 in ** block 8 showing variety weak and partly missing overprint on most stamps. Unusual but inexpensive variety.
Price: 30 euro
To purchase, email me.