German Occupations 1914-18 and 1939-45: Stamps and Postal History
I carry a stock of many German Occupation issues relating to Russia and Eastern Europe and including postal history items. Stock also includes some Plebiscite issues and Danzig.
At present:
WW1 Occupations of Rumania, Poland, Baltic States
WW2 Occupations of Baltic States, Poland, Ukraine, Czechoslovakia: Bohmen and Mahren; Slovensko
Plebiscites Upper Silesia
Danzig
For more details email me.
Trevor Pateman,
Unit 10, 91 Western Road,
Brighton,
BN1 2NW,
ENGLAND
trevor@trevorpateman.co.uk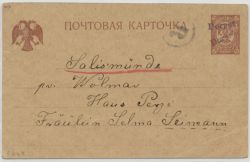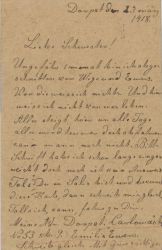 ESTONIA. German Occupation 1918
Dorpat (Tartu)
This Kerenski 5 kopeck postal stationery card without overprint was used from Dorpat to Salismunde (Salazgrihwa) in Latvia on 23 March 1918; it is written in German by a woman to her sister.
It has two strikes of the Dorpat straight-line cancel (Eesti Handbook 12/3:5) in violet; the R in circle is the Riga censor's mark.
SOLD
email me.