Latvia: Stamps and Postal History
This is an area where I have many clients and an ever-changing stock of stamps and postal history. In addition, to regular material I try to stock 1918-20 Provisional cancellations, Railway stamps, Revenue stamps, Imperial period covers and cards.From time to time I have maps and Latvian ephemera (photographs etc).
For more details email me.
Trevor Pateman,
Unit 10, 91 Western Road,
Brighton,
BN1 2NW,
ENGLAND
trevor@trevorpateman.co.uk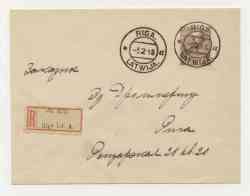 Soviet period, Riga
February 1919 Registered philatelic cover, locally addressed in Riga and franked with the 70 kopeck Kerensky which was designed by Zarins, a Latvian who went on to design many of Latvia's stamps). Post-Imperial cancellation for Riga
Price: 50 euro
To purchase, email me.