Lithuania, Central Lithuania, Memel:
Stamps and Postal History
Lithuania is a popular country for which I maintain a stock of stamps and postal history. I still have some better post-Soviet items. I also have post-Soviet forged items. I stock covers and cards from the Imperial period.

From Central Lithuania I have some colour trials and printers waste material which can be used to enhance what are usually - for want of available material - fairly basic collections of these issues.

For Memel I have a fairly comprehensive stock, including some multiples for plating.

For VILNIUS, 1923-39 I have Polish fiscal documents.
Buying
Postal history, all periods up to 1950
For more details email me.
Trevor Pateman,
Unit 10, 91 Western Road,
Brighton,
BN1 2NW,
ENGLAND
trevor@trevorpateman.co.uk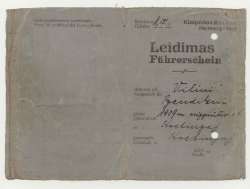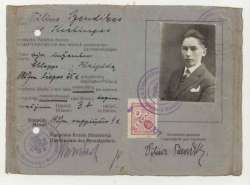 Memel 1927 Driving Licence issued to Vilius Bendikas. Filing holes, crumpling at edges. Fresh, well-tied copy of Klaipeda/Memelgebiet 3 Litai Fiscal stamp.
Price: 60 euro SOLD