RSFSR 1917-1923:
Stamps and Postal History
I have a very extensive stock of RSFSR material, including most stamps mint, used and on cover, along with errors and varieties. I also stock Postmaster Provisionals. My cover stock is especially wide-ranging, with much material relevant to tariff (rate) studies. Better items include Inflation covers and covers and cards showing use of fiscal/revenue stamps.
Starter collections for this period always possible, as are accumulations of common stamps for plating, shade and paper studies.
All this material very suitable for examination on approval.
For more details email me.
Trevor Pateman
Unit 10, 91 Western Road,
Brighton,
BN1 2NW,
ENGLAND
trevor@trevorpateman.co.uk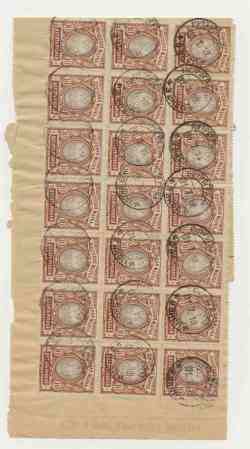 View of one side:
1919 (July) Page from a Petrograd post office Counter Register. 28 adhesives, of which 24 are the 10 rouble perforated.
Price: 75 euro SOLD
To purchase, email me.