Russian Post Offices Abroad
This material sells quickly, and you need to let me know about your interests to secure better items. At present, I have good stocks of basic stamps for China, Levant and Crete post offices plus some cancellation interest material. I have some Used Abroad cancels for Sinkiang, Mongolia, Khiva and Bukhara. Cover stock currently much reduced – I am BUYING.
For more details email me.
Trevor Pateman
Unit 10, 91 Western Road,
Brighton,
BN1 2NW,
ENGLAND
trevor@trevorpateman.co.uk
Russian P.O. - Pekin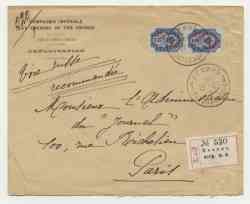 1903 Registered commercial cover of the Chinese Imperial Railways, sent from PEKIN "1" (very clear strikes) to PARIS (receiver on reverse), franked 2 x 10 kopeck KITAI overprinted stamps. Marked "Voie Russe". Very fine appearance, reverse of cover is torn.
Price: 375 euro SOLD
To purchase, email me.