Soviet Union 1923-1991:
Stamps and Postal History
I hold an extensive cover stock, including better material (Special post, Philatelic Exchange Tax, better cancellations and destinations, areas temporarily within the Soviet Union 1939-40, &c ). My basic stamp stock goes up to 1955 – after that, I just have cheap 'Pick Anywhere' approval assortments. I do not service Wants Lists for stamps after 1955. Nor is there any realistic prospect of obtaining the scarce perforation varieties on common stamps – I've given up looking for them. Sorry.
Post Soviet
Stamps and Postal History
I do not offer a new issues service.
But I do stock the following:
Commercial (office and factory) mail since 1991 from and to destinations within the former USSR. Notable stocks of Armenian, Uzbek, Kazahk and Estonian material.
Local post office issues mint and on cover (covers normally R covers through the post to me with receiver cancel) – mainly Ukraine 1992 - 1995.
Assorted bogus, forged and dubious material, mint and on cover, including Tuva
For more details email me.
Trevor Pateman
Unit 10, 91 Western Road,
Brighton,
BN1 2NW,
ENGLAND
trevor@trevorpateman.co.uk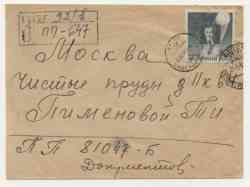 Soviet Union - Field Post
1945 (May) Unusual Registered Field Post letter, with a blank Registration cachet allowing space for manuscript addition of the Field Post Office number (647). On reverse, military censorship cachet and MOSCOW arrival, four days after dispatch.
Price: 50 euro
To purchase, email me.