Ukraine, West Ukraine,
Carpatho Ukraine:
Stamps and Postal History
My very extensive 1918–23 holdings with over 30,000 Trident overprints in stock, is based on a significant part of Dr Seichter's collection, dispersed a few years ago and part of Eugen Vyrovyj's collection. Pricing is based on John Bulat's Comprehensive Catalogue of Ukrainian Philately (2003).
I can always offer collections and accumulations of Trident types as well as individual stamps and covers.
Most of my West Ukraine stock is expertised (Bulat or Tkachuk) and I have some covers.
I have good holdings of stamps and covers from Carpatho-Ukraine, and sell the more common stamps mint at a large discount on Michel valuations. Overprints are expertised Bulat or Blaha.
I stock Ukraine exile material
My post Soviet stock includes local overprints on travelled covers, as well as mint material (genuine, forged, bogus).
In short, this is a stock no Ukraine collector ought to ignore!
If you collect Classic Ukraine, Western Ukraine, Carpatho-Ukraine, Soviet Ukraine, or Modern Ukraine, why not join the world's largest organization devoted to Ukraine collecting, the Ukrainian Philatelic and Numismatic Society? The benefits of joining are many and membership fees are very reasonable. Check out the UPNS website for details!
For more details email me.
Trevor Pateman
Unit 10, 91 Western Road,
Brighton,
BN1 2NW,
ENGLAND
trevor@trevorpateman.co.uk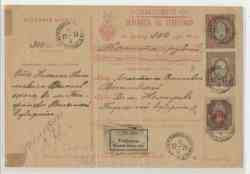 1919 (February)
undivided Telegraphic Money Order for 300 roubles from TEOFIPOL VOLINSK 16 11 19 to NEMIROV Podilia 6 3 19, franked to 8 roubles with 3 Kyiv Type 2 tridents, Signed Bulat. An exceptional money transfer item.
Price: 250 euro
To purchase, email me.