How to register as a client
I send Approval material to collectors world-wide. For some people Approvals means offerings of very basic stamps at high prices. My Approvals arent like that. They can be as specialised as you wish. They can be bulky. They can include Gold Medal material -many of my clients exhibit nationally and internationally, and include officers as well as members of well-known philatelic societies.
---
What do I have to do?
E mail me or write outlining your interests and requirements, and giving me a postal address. I will let you know if I can help. If I can, I will send you an initial consignment.
Most material is sent by ordinary post (Inland Letter Rate or Letter Rate Air Mail), and you return it by the same method. I try to avoid Registered post, which in my experience is less reliable: people steal Registered letters.
---
How do I pay?
I have ordinary accounts with major banks in the UK, France, Germany and the Czech Republic and can therefore accept IBAN / SWIFT transfers as well as cheques drawn on banks in any of those countries. By arrangement, I can accept US $ personal checks. If it suits you, and for small amounts, you can make payments in cash but only in sterling, Euros, US dollars or Czech koruna.
I am registered for VAT in the UK (VAT Registration Number GB 730 4189 51) and for tax purposes trade under the Global Accounting Scheme.
---
Do you have..?
I am unable to accept Wants Lists for stamps of the USSR (CCCP) after 1955. I do not offer a New Issues service for the post-Soviet republics. However, you could try the shopmoscow site.
For more details email me.
Trevor Pateman,
Unit 10, 91 Western Road,
Brighton,
BN1 2NW,
ENGLAND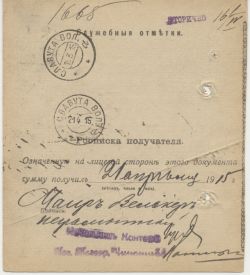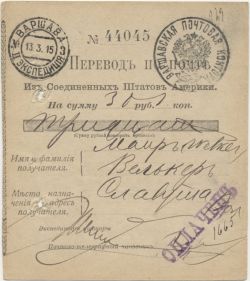 RUSSIA/POLAND 1915 PEREVOD for acknowledging receipt of a Money Transfer from AMERICA (see line 3 of the form). Originated in Warsaw in March 1915 (cancellation and Post Office seal) the money was received in SLAVUTA VOL9insk) and signed for there on 21 April 1915
Price on application
email me.