Bogus and Forged Russian Stamps and Postal History
As a specialist dealer, I spend a great deal of time checking stamps myself and sending material for expertising. Some of my clients co-operate closely with me in this work. Whenever I can, I buy in reprints and forgeries and offer them to clients at modest prices, enabling collectors to build up their reference collections. In the recent past I have acquired big stocks of forged Western Army, North Western Army, Refugee Post, Armenia, Azerbaijan, Ukraine and Poland. Most of this has been priced for sale at from £0.30 to £5 per stamp. I reserve the right not to sell forgeries to a would-be client if I feel there is a risk that the material will subsequently be passed off as genuine. I keep Approval books of Bogus and Doubtful material which have been very popular with clients.
For more details email me.
Trevor Pateman
Unit 10, 91 Western Road,
Brighton,
BN1 2NW,
ENGLAND
trevor@trevorpateman.co.uk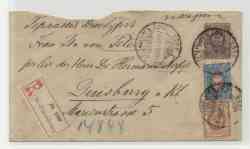 Detail: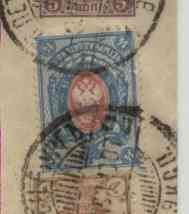 1907 Registered cover from ST PETERSBURG 9 6 07 to DUISBURG 24 6 07 (receiver cancellation on reverse), roughly opened. The 20 kopeck franking includes 14 Arms WITH INVERTED CENTRE, well tied. Signed Dr Napp. But....... the centre of the 14 kopeck stamp was cut out, turned upsidedown, and replaced prior to cancellation. Hold the stamp up to the light to see traces of gum on the face of the 14 kopeck stamp.
A nice try....
Price: 50 euro SOLD
To purchase, email me.