Czechoslovakia:
Stamps and Postal History
I now have a mainly postal history stock before 1950 and including a very large range of special cancellations on cover and on piece. I plan to expand my stock - watch this space!
For more details email me.
Trevor Pateman,
Unit 10, 91 Western Road,
Brighton,
BN1 2NW,
ENGLAND
trevor@trevorpateman.co.uk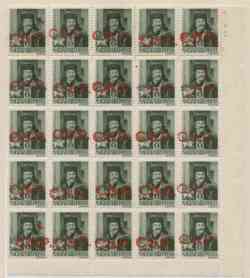 Czechoslovakia 1945 Local provisional issue of RIMAVSKA-SOBOTA, following the defeat and withdrawal of Hungarian forces. Single handstamp overprint "CSP" in red-orange on 8f Rakoczi. Block of 25 from the lower right of the sheet of 10x10, with marginal printer's inscription. Each stamp signed BLAHA, the expert of choice for this issue.
Price: 250 euro
To purchase, email me.