Russian Stamps: Fiscals, Labels etc
I have built up a large stock of material, now including:
Imperial Russia fiscals, on and off documents and including some proofs and trials
RSFSR and early soviet fiscals, on and off documents
Genuine Armenian fiscal documents 1918-25 (beware of forgeries and 'enhanced' documents)
Polish fiscal s 1918-40 on and off documents including material for VILNIUS
Serbian fiscals 1920-1940 on documents
Hungarian fiscals 1910-1940 on documents
Ukraine fiscals 1918-20 on and off documents
Ukraine exile material labels
Russia charity labels up to 1930
Latvia fiscals on and off documents
Estonia fiscals on and off documents
Austro-Hungary Fiscal documents before 1918 including material for LEMBURG
For more details email me.
Trevor Pateman,
Unit 10, 91 Western Road,
Brighton,
BN1 2NW,
ENGLAND
trevor@trevorpateman.co.uk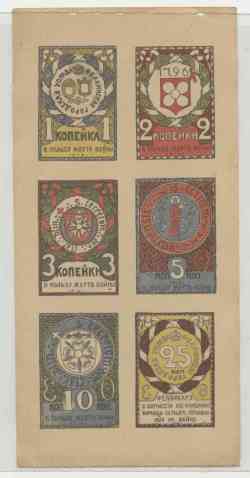 Fellin (Viljandi) 1916 Maria Fedorovna War Charity sheetlet of six values, imperforate
Price: 75 euro
(A number of similar sheets are available at the same price.)
To purchase, email me.