Poland:
Stamps and Postal History
I have a good stock of pre-1960 stamps and postal history, and in addition Fiscals loose and on documents (including scarcer 1918-20 items). Much of my better material especially from the early Independence period is expertised Jungjohann DBPP.
For the Imperial period, I keep a stock of covers and cards and Poland Number 1.
I carry a stock of material for the Upper Silesia plebiscite, including postmark interest material.
For more details email me.
Trevor Pateman
Unit 10, 91 Western Road,
Brighton,
BN1 2NW,
ENGLAND
trevor@trevorpateman.co.uk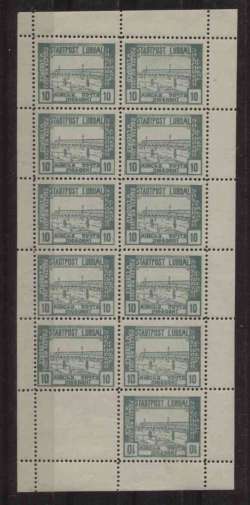 1918 Issue for LUBOML. Trial sheet of the 10 kop in grey-green instead of the issued colour (red). Perforated, full gum, unmounted mint ** and very fine.
Price: 150 euro SOLD
(Other Lubomi sheets available.)
To purchase, email me.