Serbia:
Stamps and Postal History
I have a fine stock of early stamps, including some nice postal history items. I also have an extensive stock of World War One material (including Serbian forces in France and North Africa). I have fiscal documants for the period 1918 - 1950.
For more details email me.
Trevor Pateman
Unit 10, 91 Western Road,
Brighton,
BN1 2NW,
ENGLAND
trevor@trevorpateman.co.uk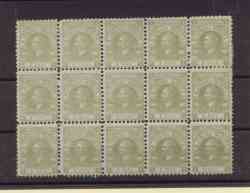 1867 The 1 Para in a block of 5 x 3, of which 10 stamps are ** unmounted mint. Michel 9A. Natural paper crease. Some age toning to right-hand three stamps and therefore priced as for a block of 12.
Price: 150 euro
To purchase, email me.